On Friday 26 November, the University of Sydney awarded four SUFC players with Blues awards for the 2021 season.
Bridie O'Gorman (Bachelor of Engineering Hons) - Bridie becomes the first ever female recipient of a Blue. Bridie not only excelled for SUFC, but was also part of the Super W title with the NSW Waratahs and has also been a member of the Wallaroos squad all year.
Tom Osborne (Bachelor of

Arts & Laws) -

Tom, who has been a regular in the 1st Grade side for a number of years had a standout season in the Shute Shield, which has led to a Premiership debut with Harlequins.

Eddie Poolman (Bachelor of

Commerce & Duris Doctor) -

Eddie in his first season in the top grade, made a significant role within the team, starting every match for the Students.

Henry Robertson (

Bachelor of Economics) -

Henry made a huge impact in the blue & gold as well as making his Super Rugby debut for the NSW Waratahs.
Unfortuantely Henry Robertson, Eddie Poolman and Tom Osborne couldn't attend the event, however Tom's father John (and fellow Blues recipient for Baseball) was able to attend and accept Tom's blazer on his behalf. Pictured to the with Sydney University Chancellor, Belinda Hutchinson.
Three members of SUFC were also acknowledged with Gold awards for their exceptional service to the Club - James Caterson, Wayne Erickson and Ash Miller.


James Caterson

In 2012, James unfortunately was forced into retirement at a young age. Not wanting to step away from the game he loved, James joined SUFC as a volunteer coach for the remainder of the season. For three years James Assisted the 3rd Colts team, winning one premiership title.
In 2015, James was promoted to 2nd Colts Head Coach, with the role came much more responsability and committment, giving up two evenings (sometimes three) a week plus Saturday's from Feb-Sept to coach our young crop of players. With his four years as 2nd Colts Head Coach, James made the Grand Final three years in a row, claiming two Premierships. In 2018, we saw James' contribution and passion reach new heights, when he not only Coached 2nd Colts, but also stepped in and led 1st Colts after the sudden departure of their Coach. He was influential in turning the group around from nearly missing finals to reaching the semi final in all 3 Colts competitions. The level of respect James receive's from the playing group is testiment to his character and ability. This led to him being named SUFC's Volunteer of the Year for 2018.
In 2019, James took over the Head Coaching role for 3rd Grade, claiming back-to-back Minor Premierships in 2019 and 2020 as well as reaching the Grand Final in both years. Realising his ability to spot young talent and develop them, James returned to the Colts program for the 2021 season and was on track to compete in finals once again before the season was cut short due to COVID-19. Over his 10 seasons volunteering for SUFC James has coached 159 games, 130 of those victories (84% success rate), has won 3 Premierships (only missing the Grand Final in 2018) as well as contribution to SUFC's Club Championship titles from 2013-2019.
James has been volunteering for the Club since 2012, his successful coaching over 10 years has led to SUFC securing 8 consecutive Club Championship titles (2012-2019)
Ash Miller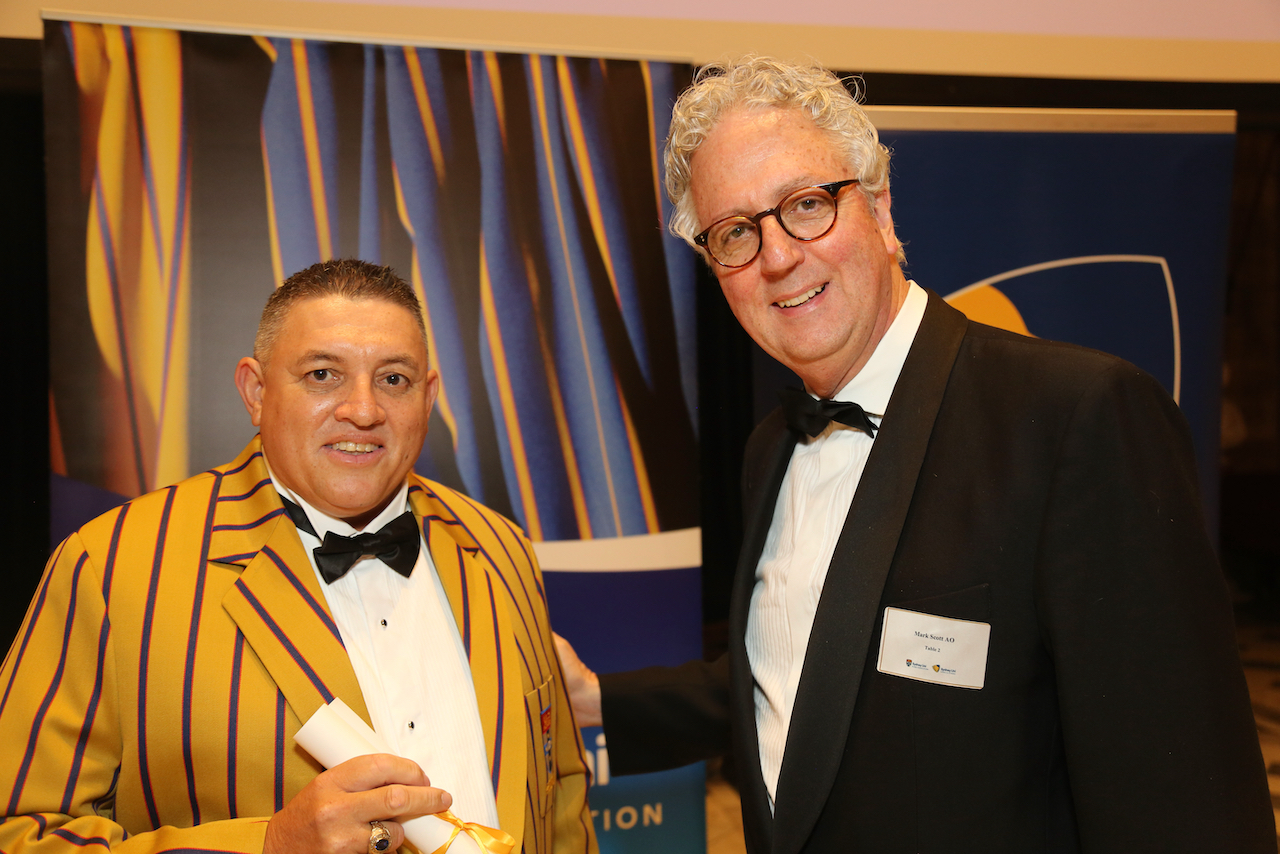 Ash joined SUFC in 2012 as an assistant Gear Steward and became the Head Gear Steward the following season and remains to this day. This means: collecting; washing; folding; sorting; pumping, transporting; and distributing, playing jerseys, footballs, radios, and water bottles. Au critical part of SUFC's operations, Ash turns up every week on Tuesday and Thursday evenings and all-day Saturday. He is the first to arrive and the last to leave, spending 16 hours/week for 30 weeks of the year doing all of the jobs that many take for granted.
But, it doesn't stop there. It was his initiative to connect past and present players with the history of the Club through the sale of pre-loved SUFC jerseys. Ash also manages our Ball Kids on game days, making sure they know their responsibilities and that they are looked after and fed. He makes newcomers to the Club welcome with his infectious personality and passion for SUFC. He always attends Club functions, arriving early to help with set-up and staying back afterwards to assist with pack-down, despite the fact that he's usually invited as a guest!
Ash was awarded SUFC's Volunteer of the Year in 2012 for his significant contribution to the Club. He also received NSW Rugby Union's Volunteer of the Year award in 2017 for his unwavering commitment to Community Rugby.
Ash epitomes the 'put your hand up, not out' philosophy. Generous, reliable, and selfless with his time, he never says 'no' to a request and will go out of his way to help anyone in need. A proud clubman who extends respect to all, and well-deserved of our respect in return.
Wayne Erickson
Since taking the role as Principal of St Andrew's College in 2008 Wayne has supported sport at the university, as the true renaissance man he is, Wayne's passion for the extra-curricular was never stronger than when he was supporting his favourite sport of rugby and the SUFC. To that end, throughout the last 13 years, Wayne has:
Provided thousands of dollars worth of St Andrews College scholarships to up-and-coming SUFC players
provided college facilities, staff and accommodation to support SUFC's teams, players and staff
Provided support for SUFC fundraising events through purchasing tables and contributing to the foundation.
Wayne has even performed as a scrum coach for SUFC's Colts and organised referee workshops for our coaches and senior players at the club for training and education.
Beyond the University game, Wayne famously served as an international rugby referee for many years before becoming a member of the Rugby Australia Technical Advisory panel which is responsible for setting up coach, player and administration pathways for participants in Australia
Without Wayne's support, SUFC would be nowhere near the strength it is at presently.
*2020 recipients, Darcy Breen (Blue), Scott Fraser (Gold) and Bruce Lin (Gold) were also acknowledged and received their awards. Read more about their achievements here - https://sydneyunirugby.admin.sitesuite.net.au/article/2020-blue-and-gold-recipients-announced
Photo credit - AJF Photography